Planning
Through careful planning, we are able to control resources, time and costs, according to customer needs and the requirements for work to be carried out.
Project Management
When studying the management of a given project, we base ourselves on the knowledge and experience gained through other jobs already developed, where we apply the methods and techniques in order to guarantee and proceed with the projects as intended.

Market
The constant highly demanding factors of technical and productive capacity are challenged by the continuous improvement and evolution of the construction market.
In this way, GroupPSM constantly endeavours at periodically monitoring developments in this field, both locally and internationally, in order to maintain full control over the quality, competence and effectiveness of the services provided.

Team and Professionalism
We have professional, young, dynamic and qualified team management.
In order to maintain our teams motivated, we communicate with our qualified professionals and invest in continuous professional training according to our company work needs.

Installation
We provide for the application of materials on site.
We monitor the construction in order to assess its progression and possible deviations, to take corrective measures and guarantee the quality of the work to be developed.
We install:
Composite Aluminum Facades
Ceramic Facades
Phenolic Panel Facades
Natural Stone Facades
Porcelain Facades
The ventilated facade system is a more efficient solution for building cladding.
The ventilated facade is a consolidated construction system, increasingly used in modern construction, with great acceptance among architects and builders, due to its high quality.
It offers several advantages of thermal insulation, which leads to a reduction in energy consumption.
In addition, the multilayer system improves sound insulation; a great advantage for locations with high noise pollution.
It allows for the development of functional and high standard aesthetic projects.
Its installation system minimizes the construction time and its maintenance is minimal.
The ventilated facade system consists of a support wall, an insulating layer, fixed on the wall, and a cladding layer joined to the building.
An air chamber is built between the insulation and the cladding, creating a "chimney effect", thus achieving effective natural ventilation and other benefits.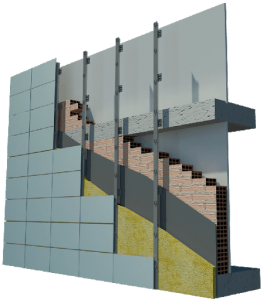 Aluminium Composite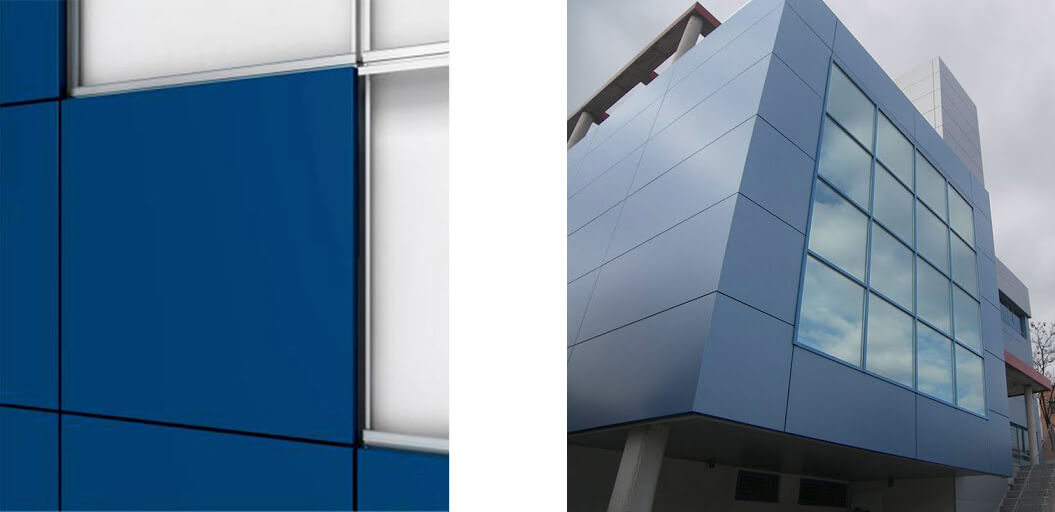 Aluminum, steel, copper, zinc, stainless steel, among others, are new elements for cladding new facades in the market, which respond to requests such as color stability.
It possesses durability and resistance properties, allowing high productivity due to its easy application/assembly.
Its use is on the increase, mainly because it combines its properties with the highly exceptional appearance.
Ceramic Tiles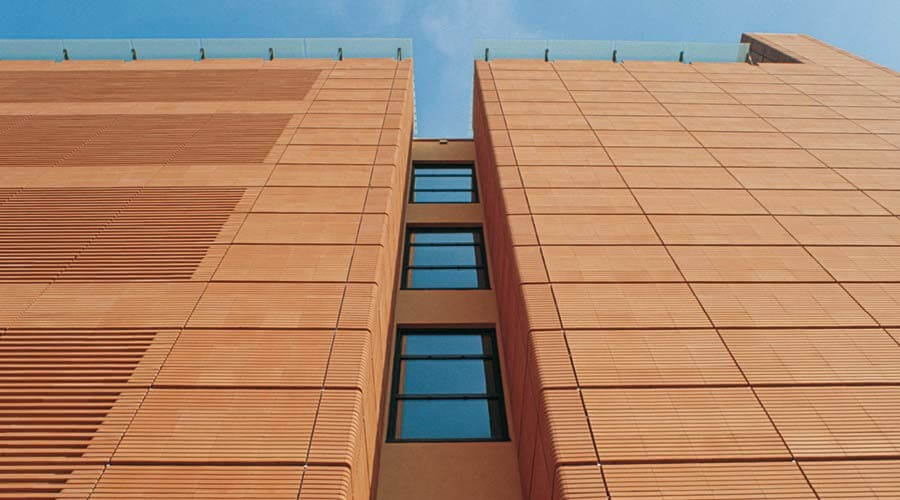 Ventilated ceramic facades may have a higher initial cost, but are a good investment due to thermal factors, durability and are maintenance-free.
Ceramic facades can save up to 20% or 30% of home energy consumption.
In addition, its multi-layer system improves sound insulation, and its installation system minimizes construction time and maintenance resources.
This natural cladding also has the advantage of being environmentally friendly.
It comes in a variety of patterns, colours, textures and in multiple formats.
Fenolic Panels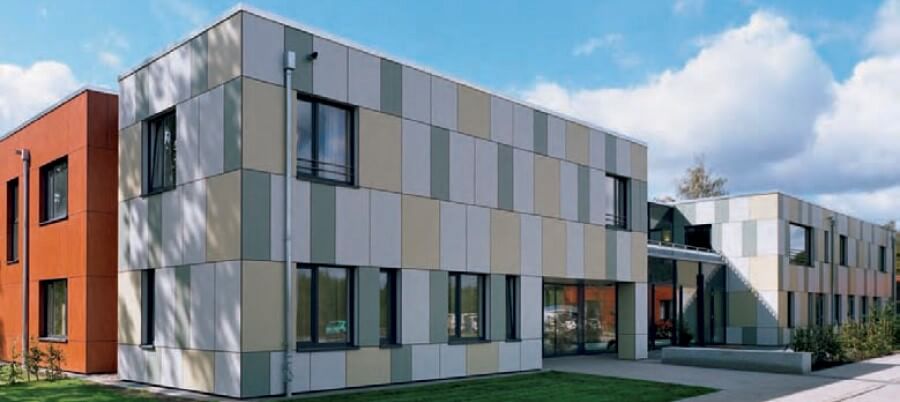 Phenolic panels are an advanced and recently developed building material.
These panels are produced from hardened resins homogeneously reinforced with wood fibers.
These products are highly stable, offer good resistance in relation to their weight, and still have the advantage of their versatility and durability.
A process combining heat and pressure results in a homogeneous product that is non-porous, flat and regular, resistant to UV rays, moisture and adverse weather conditions.
This material is impervious to oxidation, corrosion and is dirt resistant, yet it has excellent colour stability, allowing for an excellent type of finish and without limiting imagination or creativity.
The design and unlimited colours, which fit into ventilated facades for indoor and outdoor use, encourage the increasing growth in its usage.
Natural Stone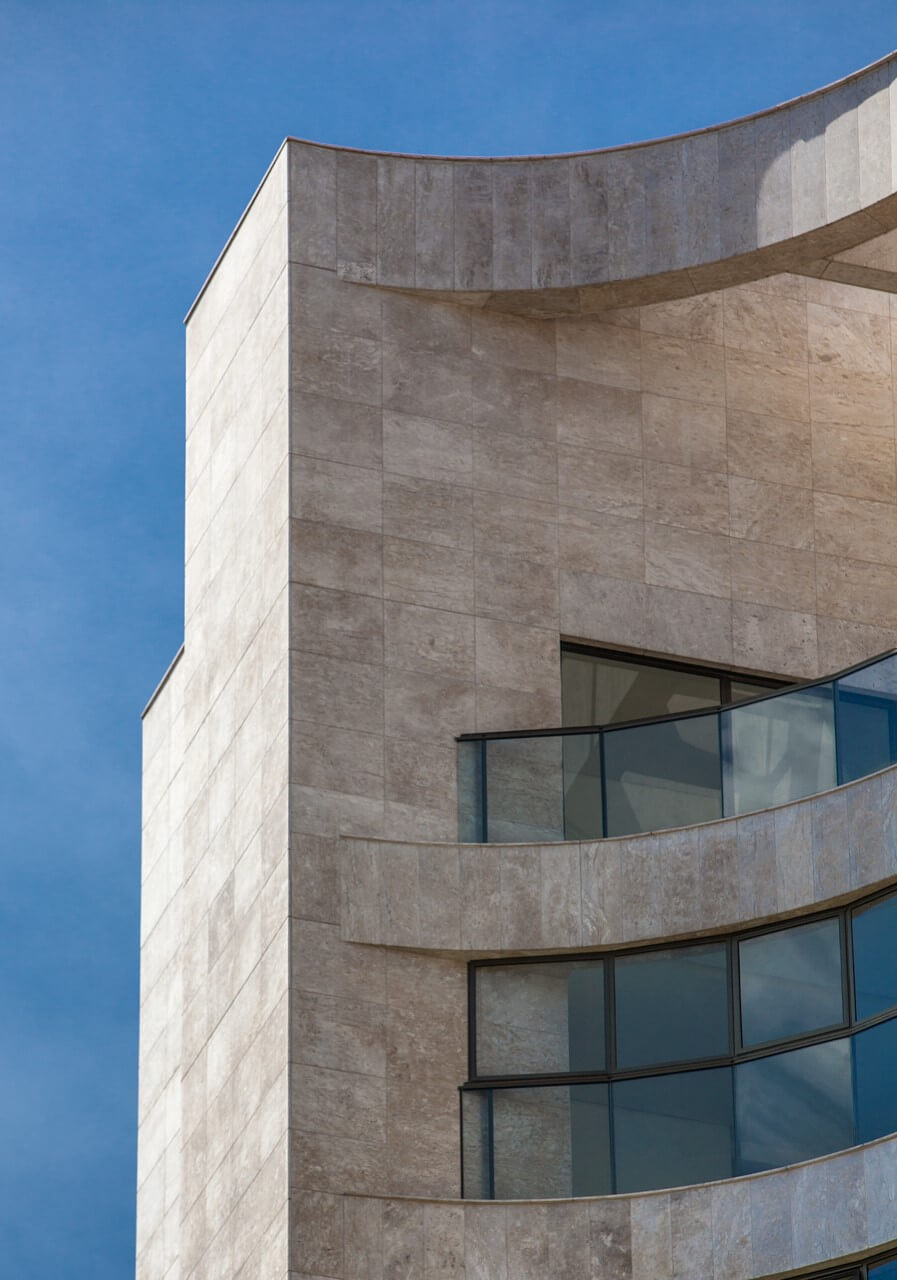 Natural stone has always been in use in different areas of civil construction, due to its durability and exquisiteness, both in the interior and the exterior.
The decorative aesthetic characteristics are a great advantage, but its multiplicity of possible finishes, together with its versatility are all factors that solidify its grandeur.
We are specialists in the installation of materials such as marble, granite, limestone, slate, shale, among others.
Porcelain Stoneware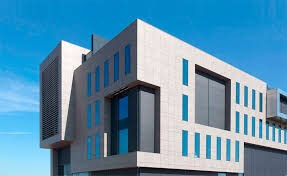 Porcelain stoneware has become a highly sought after cladding material thanks to its powerful characteristics, such as high resistance, non-slip property, elegance and timeless beauty.
Additionally, the possibility of reducing the thickness which gives it a considerably lower weight per construction area than that of the other products, thus constituting a favourable solution, offering greater versatility and wide range of applications to this type of solution, notably reducing the weight of the cladding applied to the building.
It is also low maintenance considering that each piece can be worked on individually, ensuring an accurate planimetry installation.
GroupPSM also extends its business to the construction of flooring, in particular in industrial "pavê" paving, concrete slabs and curbs.
From the design phase to the building and maintenance of the flooring, our company does not forget all the care that is required when carrying out these jobs.
For good sizing of an industrial floor, the end user practical needs are to be analysed in the designing phase.
Therefore, the structural resistance of the floor, the wear and tear resistance, the type of metal fibres or structures to be installed, the type of joints, the quality of the concrete, the planimetry requirements, among others are always taken into account.